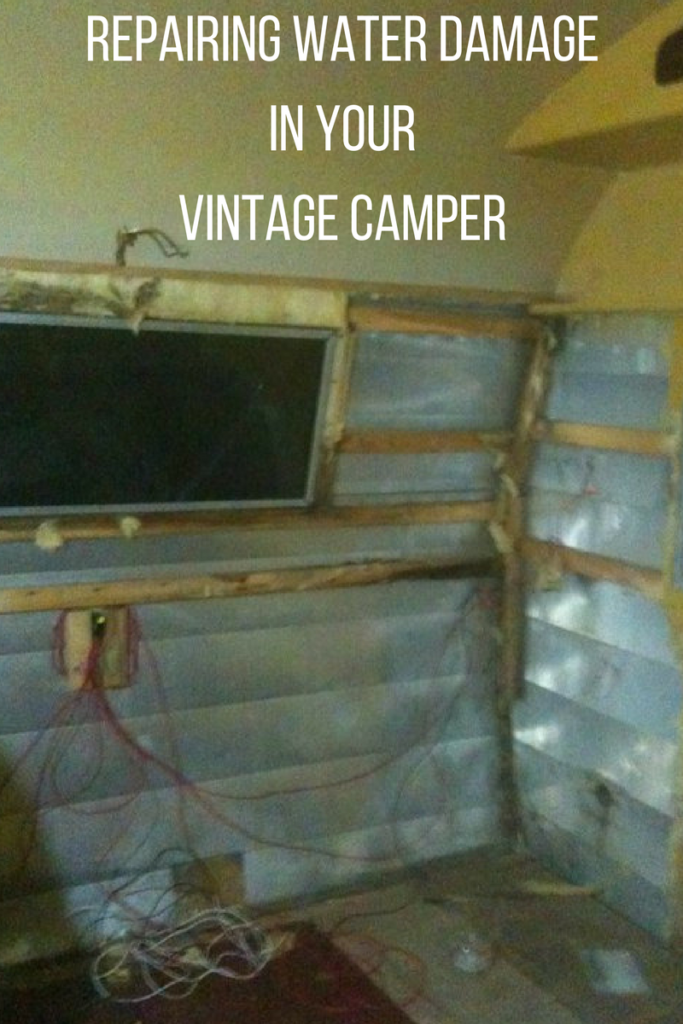 Six years ago, I didn't know anything about repairing water damage in a vintage camper.  I couldn't imagine the number of hours and the money I would end up throwing at this project.  I'm seasoned at this point and I will purchase the next camper with more caution.
I'm not going into detail on this post, but here is a basic list of the work you should expect to do once you realize your vintage camper has water damage.
I should note, the proper thing to do would probably be to tear the camper down to its bones and start there.  If you are like me, and don't have the storage or means to go that route, this method has served us well.
I think we have water damage.  How much work am I looking at here?
step 1:screwdriver test
Below you will see signs of water damage on the back panel.  Most of the wall below the window was damaged.  How damaged?  When I poked it with a screwdriver, the screwdriver went through.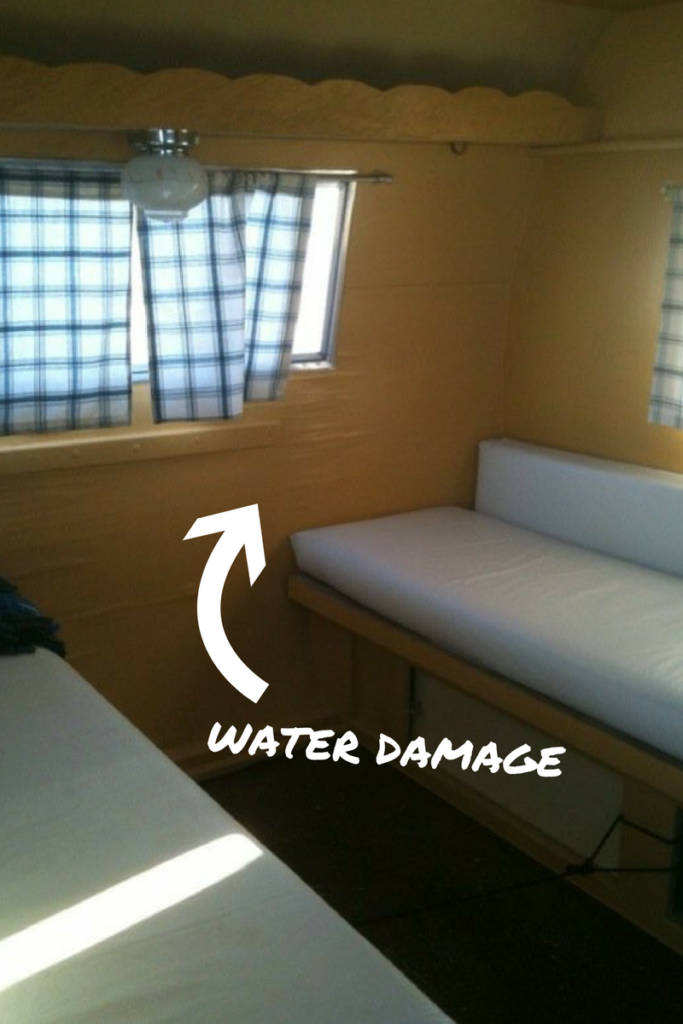 Step 2: Peel back damaged areas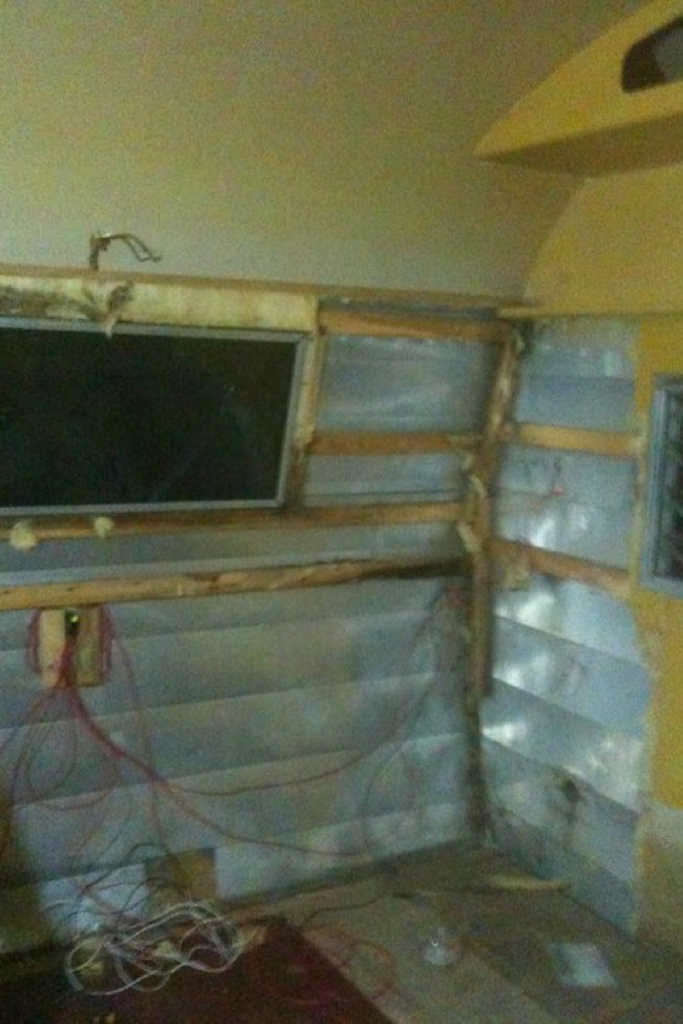 I removed paneling and old insulation until I came to wood that was no longer damaged.  Now you have exposed aluminum skin, wires, rotten frame, and probably a few tears.  Grab a beer or a glass of wine and ask yourself what you were thinking when you purchased this camper.
Step 3: Seal seams & around screws
Butyl tape is your new best friend.  Here are my dos and don'ts for sealing seams to prevent future water damage.
step 4: Remove old framing and reframe
When it was all said and done, we reframed the back end, the roof vent area, and around the entry door.  Invest in a Kreg Jig or a Kreg Jig Jr for this job.  We used the Kreg Jig Jr.  You can read more about this handy tool in this post.


Step 5: Test Your Lights
While you have everything opened up, make sure your tail lights work.  All of the wiring goes through the back walls.  It is now or never.  Our camper required re-wiring.
step 6: Insulate
We used foam board insulation and taped it to the frame with foil tape.
step 7: Install New Paneling and Trim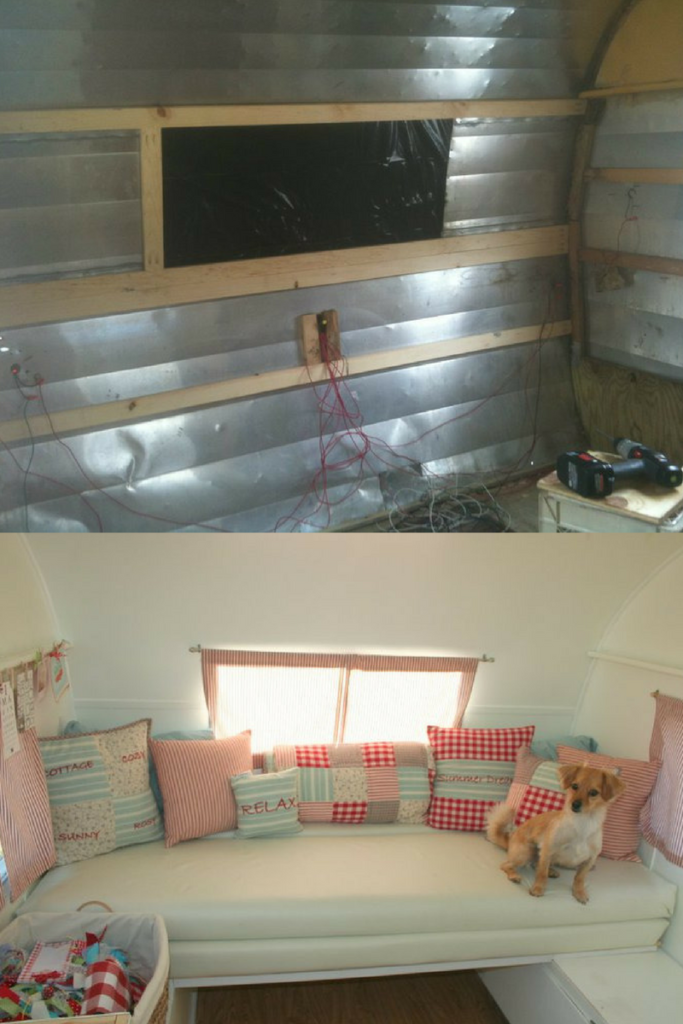 You can read more about the process of re-paneling here.
Step 8: Paint
Or don't.  The purist will keep the original look of stained wood.  Doing that would have required us to tear everything out and re-panel it all.  It was not something we had the time or means to invest in.  So, we painted.  When you finish that, grab a beer and try not to think about the next project on your camper list for at least 5 minutes.
Good luck
-Chris