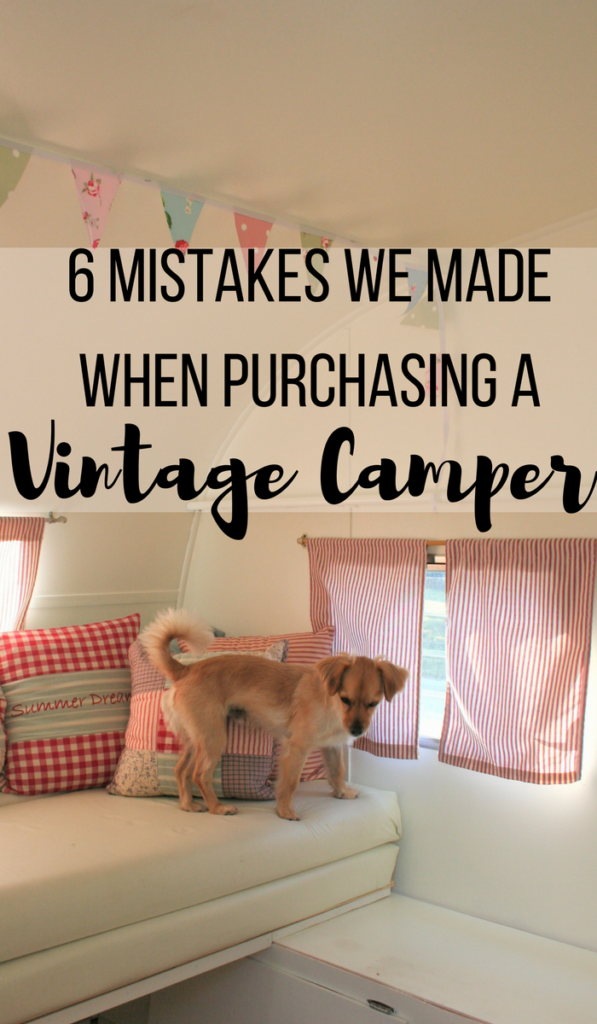 Just to clarify, buying a vintage camper was not a mistake on our part.  I'm not writing this to tell anyone they shouldn't seek out a little vintage camper of their own.  In fact..
Buy all of the vintage campers!  Save them all!
I'm writing this because there were a few things we didn't think about or know before we made our purchase.  Our expectations and reality didn't line up.  If you are seeking your own vintage camper project keep reading!  Learn from our mistakes we made when we bought our little trailer.
6 Mistakes We Made When Buying a Vintage Camper:
 1. We Didn't Look For water damage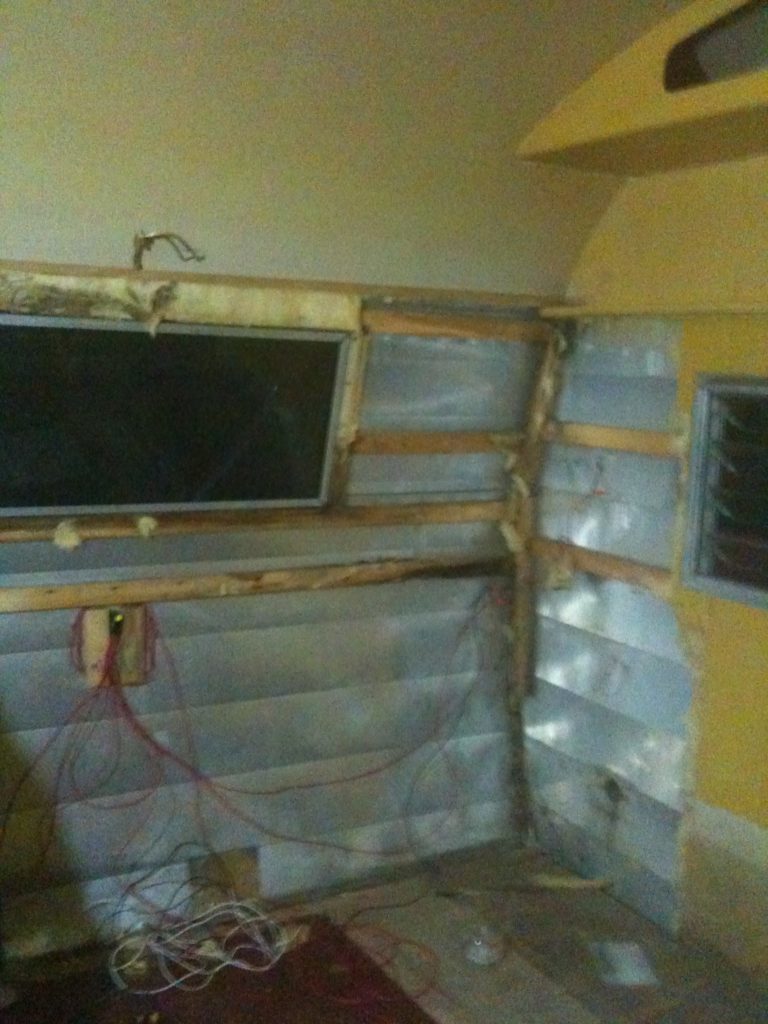 As I mentioned in this post, the previous owner slapped a fresh coat of paint on the interior walls and told us she 'redid' the camper.  Neither of us had spent any time online researching what to expect or what to look for.  When it was all said and done, we had to replace the walls on the back end and the area around the ceiling vent.  You can see the details in this post.

It seems like the majority of these campers have water damage.  When buying a vintage camper, you should inspect it carefully.  Look for ripples and stains on the interior panels.  Look around the door, roof vent, and windows.  If you see signs of water damage, you may not be able to determine the extent until you start deconstructing the camper.
There is a chance that the entire camper will need to be re-built.  Mentally prepare yourself for the worst and be prepared to purchase a Kreg Jig. It will make your trailer restoration a lot easier.
If we had been looking, we would have seen all of these issues with our camper.  We were too 'in love' with it to see past the paint and realize that we were looking at a project camper.  It took a lot of hours to make her look like this.
2. We Didn't Expect So Many Projects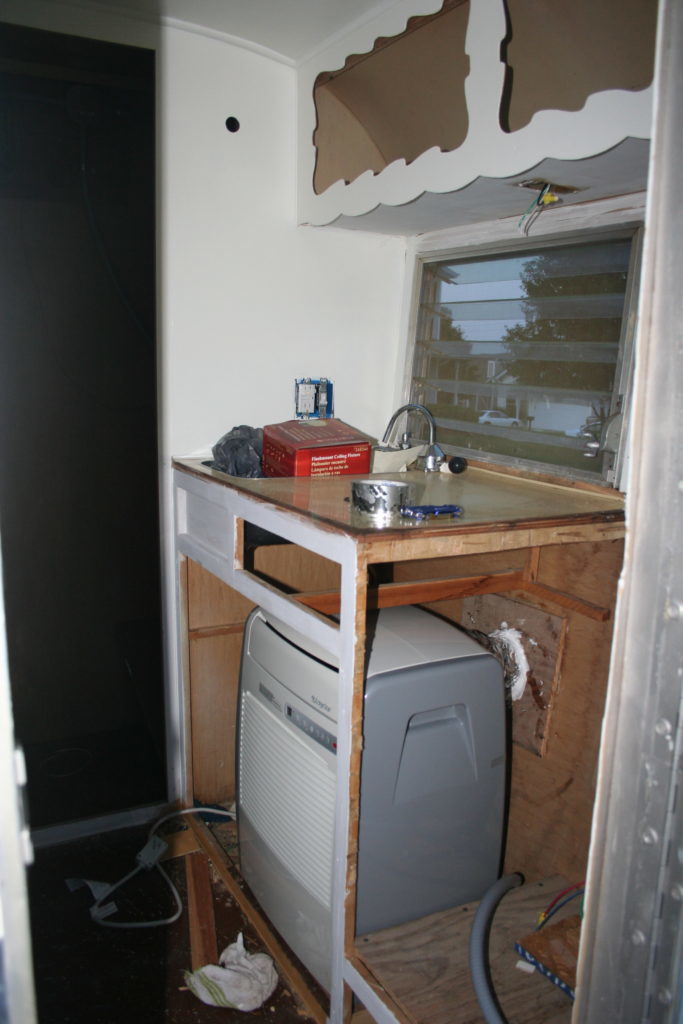 Before we purchased the camper, we knew we would modify the bed, install an air conditioner, and put down new flooring.  There were a lot of other projects we didn't anticipate.
 The short list:
Rewire interior and trailer lights
Replace wheel bearings
Replace the tongue jack and safety chains
Rebuild the door.
Reseal everything to prevent further water damage.
I didn't know how much work went into making sure this camper was safe.  It is like a lot of new relationships.  You are just so enamored with the other person that you can't see their faults.  With time, the faults come shining through.  Cecilia was perfect when I found her and the day later I saw she was a hazard to my safety.  Thank goodness for web sites like Vintage Trailer Supply, Inc.
The upside is that the trailer was fixable.  With enough time and money, we could repair the trailer.  I'm happy to report it is now completely safe.


3. We didn't expect to spend so much money
The cost of repairing vintage trailers varies.  We didn't keep track of everything we spent on the remodel over the last 6 years.  In this article, you can see how much Laura spent on her remodel.  Red Dirt Shasta did a great job of keeping track of this on his Shasta project.  Scroll through his blog and you will see his vintage trailer costs in the column on the right. Every project is different, but having his price as a baseline is more than we started with.   We walked into this blindly without considering the cost of replacement skin or birch paneling.  Some of these campers sell for a couple hundred dollars.  That doesn't always mean it is going to be cheaper than buying a newer camper that is road ready.
I know we aren't the first people to make this mistake.  When you are shopping for vintage campers online, take note of how many people mention they bought it to fix up, but never got around to it.
4. We Didn't Realize We Couldn't Park in Our Driveway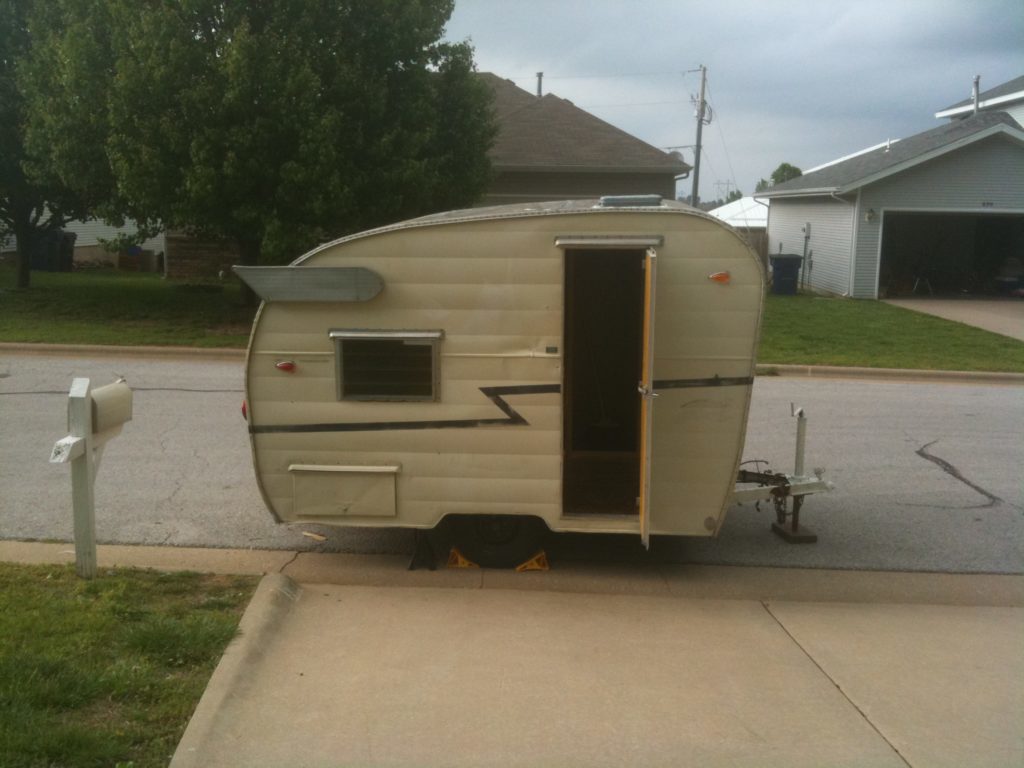 Most of these vintage campers sit low to the ground.  Backing the camper into our driveway is impossible because of this because of a slight incline. Since we can't park it in the driveway, we have to work on it while it sits on the curb in front of our house.  Not ideal.
We live in one of those neighborhoods with an HOA.  This means rules and regulations.  One of those rules is that trailers and vehicles cannot be parked in front of your house unless they are moved every 24 hours.  It can be a pain.  Since neither of us needed to park on the road before we bout Cecilia, we didn't know the rules.  Make sure your neighborhood doesn't have rules that will hinder your progress before purchasing a vintage camper.
5. We Didn't Know How Long It Would Take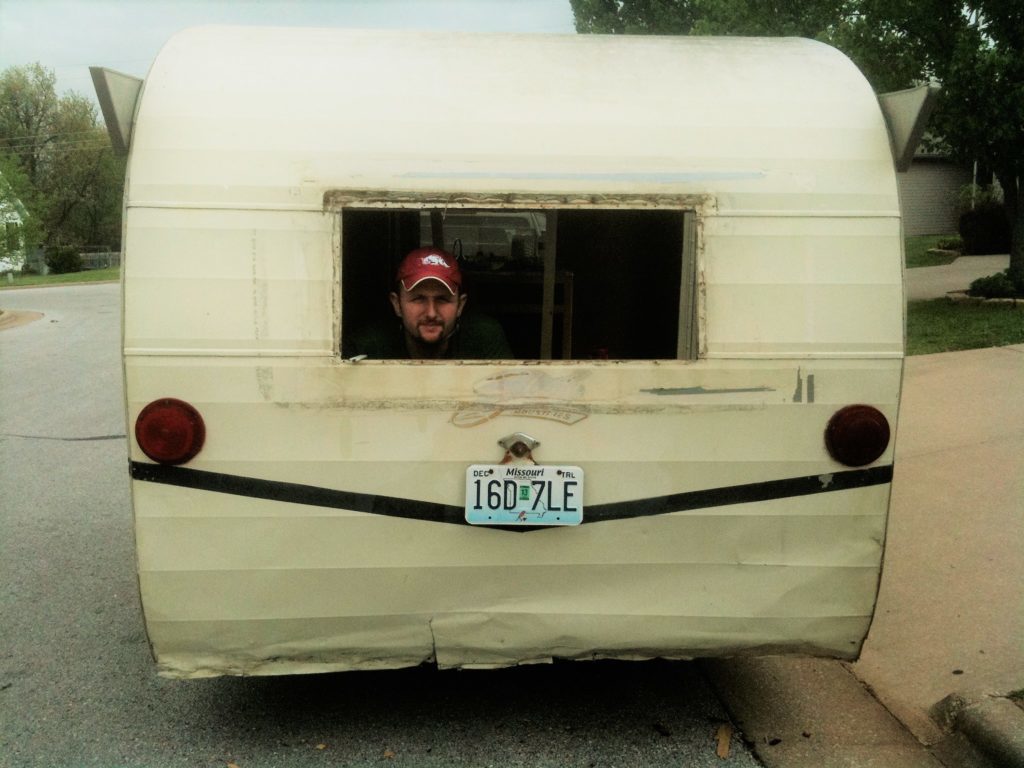 We spent a month of evenings and weekends working on the camper.  By that time, camping season had arrived and we were less interested in work and more interested in sitting by the lake.  We took a break.  Kids came.  We took a really long break.
We don't have access to a garage to do indoor repairs.  Some of the repairs meant racing the clock or rain clouds.  When you have the back window out, you are well aware of what time the sun sets.  If you read my post on 5 Options for Exterior Paint, you already know we had plans to paint.  Postponed due to rain.  Again. This project was do-able without an indoor garage, but having that space would have sped up the process.
6. We Didn't Buy Something We Could Grow Into
5 months after we purchased the camper, we decided to become foster parents.  Our boys walked through our door less than a year after we purchased Cecilia.  As much as I love my little vintage camper, she is too small for all of us.  I use her mostly on solo trips or I will take one of the boys along with me for a weekend.  They are getting old enough to sleep in a tent alone now, but that wasn't always the case.
Despite the fact that we made mistakes…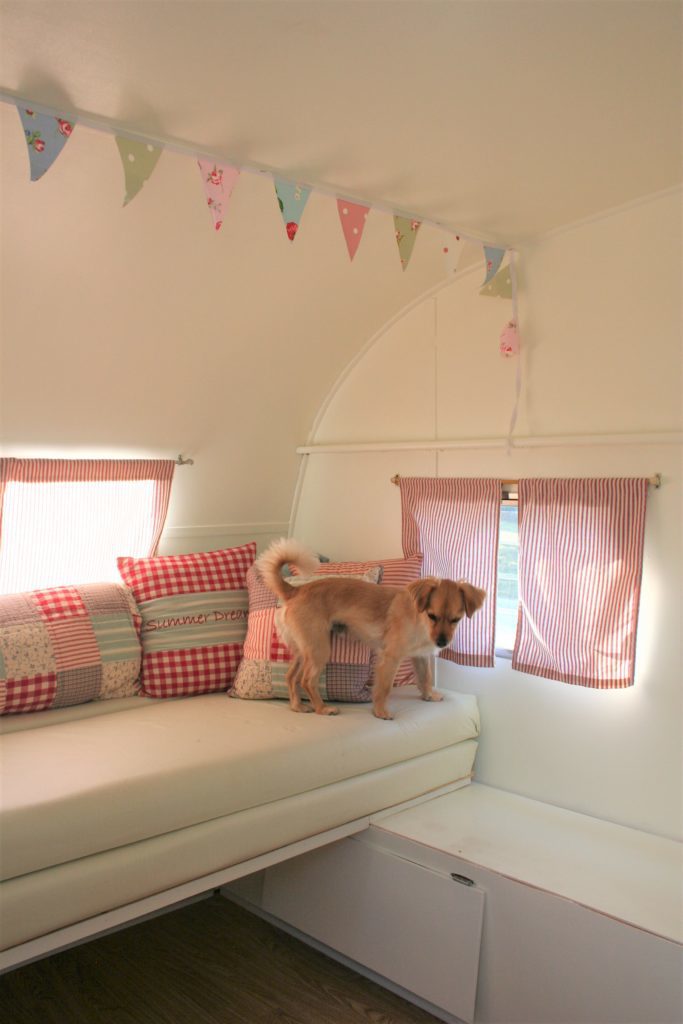 We love our little camper and we love everything we have learned along the way.  I love the hours we have spent together working on it and camping in it.  I didn't write this to tell you not to purchase your camper.    No, I wrote this so maybe someone reading this won't be blindsided.  Prepare for the worst and expect the best.

If you are searching for a vintage camper, here are 6 tips that will help you find one.  You can also find several for sale right here on our site.  
If you have already purchased one, leave a comment below and let us know what you would do differently if you were buying another camper.